5. Defender of the American Dream
We need governments to preserve liberty and stop trying to save everyone.
Hello Friends!
Thank you for reading my Let People Prosper newsletter. Please keep sharing it with others who may be interested in our fun discussions. Here's my personal website, which has my academic work, and my employer TPPF's website. If you like this information and would like daily updates from scholars on more issues, sign-up for TPPF's The Cannon newsletter.
Before we get going, I'd like to share with you two things that I was thrilled to be a part of this week.
First, I was honored to be presented with the "Defender of the American Dream" award this week by Americans for Prosperity—Texas and The Libre Initiative for my work on reforming and cutting (hence the sharp knife!) property taxes in Texas. There's a lot more work to do, as my vision is that Texas would eliminate its disastrous property tax system thereby creating an even more inclusive institutional framework to support increased prosperity for Texans.
Second, I had the pleasure of meeting with the former Texas Tech University Chancellor Kent Hance. We had a great discussion about Texas Tech and public policy in the Lone Star State. He is a legend here and I'm thankful to know him and meet with him pretty regularly.
OPEN TEXAS AND AMERICA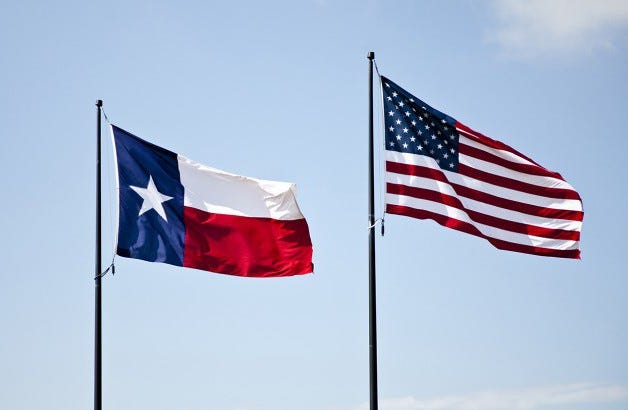 Latest on Texas Opening: For a more thorough overview of the COVID-19 situation and opening efforts in Texas, see my previous post: History Helps Humanity. Here are the latest statistics in the Lone Star State:
Texas Governor Abbott Metric Overview: Per GA's metric of CV19 hospitalizations/total hospital capacity for seven consecutive days, TSAs below 15% can have most businesses expand to 75% capacity, keep state mask mandate, and bars (and others) open to 50% capacity with the approval of the county's judge. TSA A (Amarillo), TSA B (Lubbock), and I (El Paso) are reported on the list of further restrictions, so 94% of Texans are at 75% capacity + other restrictions.
TSA A (Amarillo) > 15% for 13 straight days and trending up to highest since COVID started

TSA B (Lubbock) > 15% for 12 straight days and trending up to highest since COVID started

TSA I (El Paso) > 15% for 19 straight days and trending up to highest since COVID started

TSA T (Laredo) is next highest at 12.5% but leveling off

Statewide is plateauing at 8.4%, well below the 13.9% average for July-August
Alternative Metric Overview: Per the alternative metric of the 14-day moving average of CV19 hospitalizations/total hospital capacity determined each Friday, 15 TSAs (TSA C (Wichita Falls) & TSA K (San Angelo) added) are 7% so they could be at 75% capacity, while the other 7 TSAs with 46% of Texans would be 100% free (100% capacity, no mask mandate, bars open).
2 more TSAs joined the more restricted list as they moved above the 7% threshold.

TSA E (Dallas/Fort Worth) has been above 7% for 3 straight days

TSA O (Austin) has the lowest metric in the state

Statewide is trending up to 7.7%, highest since 9/2 but remains below the 14.7% average for July-August
Hospital Data Statewide, Except Noted Otherwise:
Available beds as a share of staffed inpatient beds plateauing at 20.8%, with a 14-day average of 20.8% being the highest since 10/19.

COVID-19 hospitalizations up 11.1% (to 5,627) over last 7 days, up 32.5% over last 14 days

Available beds up 12.0% (to 12,943) over last 7 days, up 12.7% over last 14 days

Occupied beds down 2.5% (to 49,144) over last 7 days, down 0.7% over last 14 days

Staffed inpatient beds up 0.2% (to 62,087), up 1.8% over last 14 days

With available beds as a share of staffed inpatient beds plateauing while COVID-19 hospitalizations are rising, this indicates there are fewer hospitalizations due to other causes as hospitals maximize their bed usage.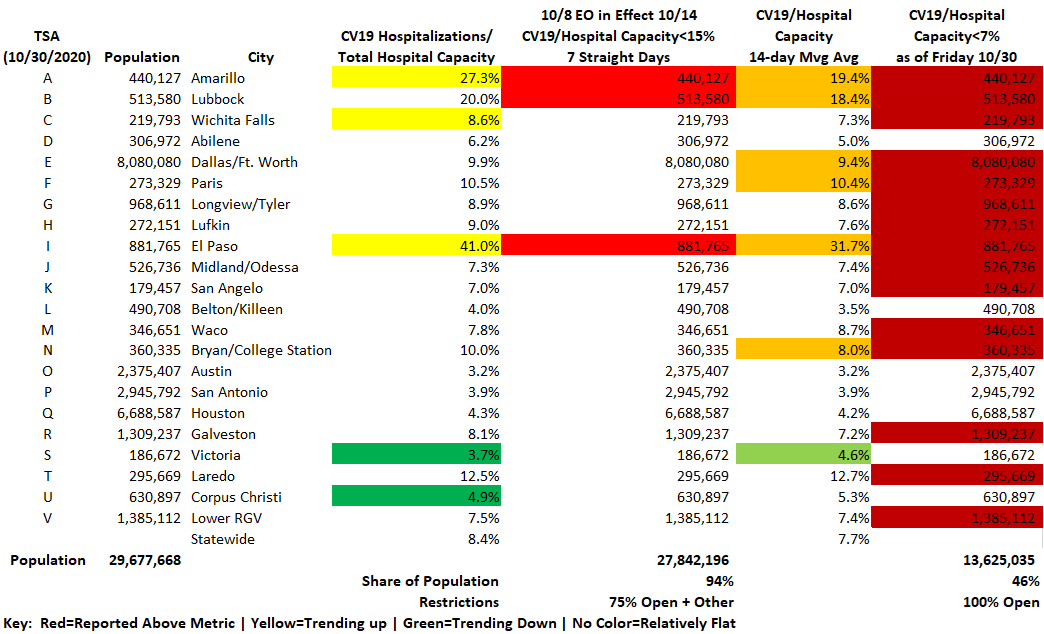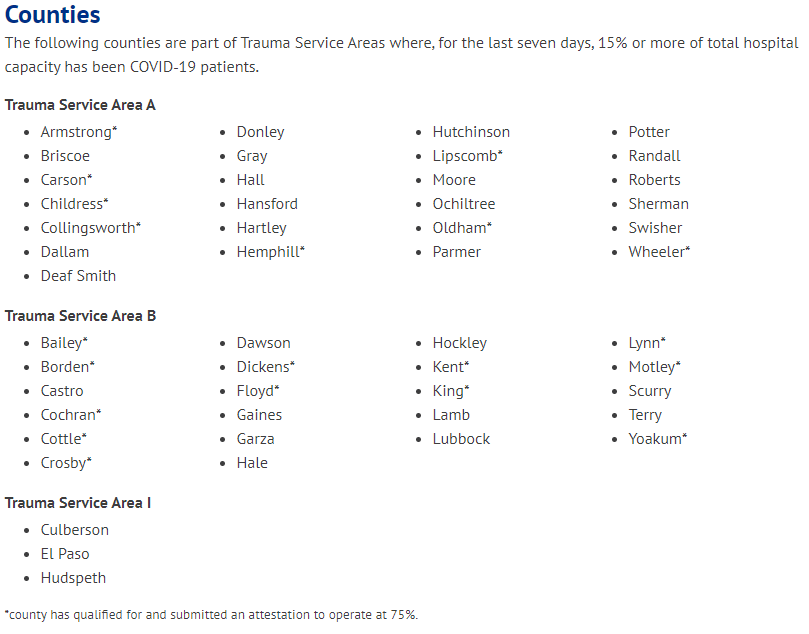 There is a lot of good data at this TPPF link:
Here's info on what's going on in El Paso.
Interesting post here on why some, like me, are highly skeptical about the lockdowns and other measures by governments to deal with the COVID-19 pandemic as there is a strong case that the "cure" has been worse than the disease because of government failures.
TEXAS ECONOMIC AND FISCAL SITUATION

There's much work needed to improve the business tax climate in Texas so more people want to start businesses here for more prosperity across the income spectrum without the government picking winners and losers.
U.S. ECONOMIC AND FISCAL SITUATION

U.S. GDP growth for the third quarter of 2020 was released this week and it showed a substantial positive rebound, as expected, after the worst decline in the second quarter. Here are a couple of key tweets that I think tell the story that the rebound of the productive private sector is important but there's still a long way to go.
Check out my thread on the substantial gains by households during the last three years that don't get as much attention these days. We need more of this.
While
@WhiteHouseCEA
's est $6K increase in real household income from
#Trump
's
#TCJA
& dereg efforts were criticized,
@uscensusbureau
data show it already increased by $5.8K since 2016. Pro-growth policies work.
census.gov/library/public…
#Election2020
@caseybmulligan
@kerpen
@TPPF
Vance Ginn @VanceGinn
1/n It doesn't get much attention because of the #COVID19-induced recession, but @realDonaldTrump's TCJA & dereg efforts have estimated gains of $6K in real household income, helping families especially during this tough time. @WhiteHouse @WhiteHouseCEA @caseybmulligan @TPPF
Jobless claims are improving, but as usual these days, still need much more improvement.
Have a Safe, Blessed Time On Election Day
Finally, as we approach the 2020 election day on Tuesday, November 3, I think it is important to put things in perspective.
The following two Bible verses are important to remember as we shouldn't put our trust in politicians and governments to save us from risks and other issues that we face but rather put our trust in Jesus Christ. We only get to live life on earth once, let's make the best of it by finding peace in an otherwise erratic situation with the election and other things that will likely occur in the coming days. It's also why I think we are overreacting to the COVID-19 situation.
Sure, we need to take personal responsibility, but the worry that is driven by fear over the novel coronavirus is keeping too many in a freeze response that prevents them from living their full potential even with precautions in place. Instead, pray for our country, our leaders, our people, and people around the world so that we can love our enemies and have no fear as hope arises around us.
If you have any information that I should see, please send my way. Contact me at any time. Also, please unsubscribe if you'd rather not receive this personal connection. I hope this newsletter is marginally beneficial to you and will help us to find opportunities to let people prosper.
Blessings to you and yours,
Vance
Vance Ginn, Ph.D. | www.vanceginn.com | #LetPeopleProsper