Discover more from Let People Prosper
Vance Ginn, Ph.D., writes the Let People Prosper newsletter with key insights into free-market ideas that let people prosper and podcast episodes from his work in academia, public policy, and the White House. He resides with his family near Austin, Texas.
3. History Helps Humanity
Recap of the many lessons learned this year.
Hello Friends!
Thank you for reading this latest edition of my Let People Prosper newsletter. Given this is the second edition of the new newsletter, I'd like to welcome many new subscribers. You can find out more information about me at my personal website www.vanceginn.com and where I work at the Texas Public Policy Foundation here.
Today's newsletter is going to be longer than usual because I'm including prior insights that I've provided this year so we're on the same page. These will be in three sections: Open Texas and America, Texas Economic & Fiscal Situation, and U.S. Economic & Fiscal Situation. If you like this information and haven't subscribed yet, please do so here. Is you would like daily updates from TPPF scholars on more issues than these, sign-up for TPPF's The Cannon newsletter.
Okay, enough of the introductory stuff, let's dive into what's been going on lately in economic and fiscal issues so we can find ways to let people prosper.
OPEN TEXAS AND AMERICA
Latest on Texas Opening: Texas Governor Abbott's latest Executive Order on 10/7 related to COVID-19 and the opening of Texas took effect on Wednesday, 10/14. This new EO changes the metric used to evaluate the severity of the COVID-19 situation at hospitals to be the share of COVID-19 hospitalizations-to-total staffed beds in each of the 22 trauma service areas (TSA).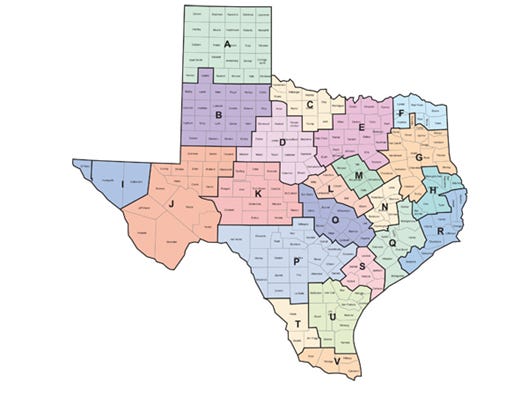 If that share is less than 15% in a TSA for seven consecutive days then the state restrictions in place about capacity at businesses increases from 50% to 75%, the statewide mask mandate remains, and some businesses like bars can open from 0% to 50% capacity with the approval of the county's judge.
As of Friday, 10/16, no TSA is over the Governor's threshold, so 100% of Texans are at 75% capacity plus other restrictions (see table below).

TSA T (Laredo) falls off restricted list as it has been below 15% for two straight days.

TSA I (El Paso) has been above 15% for five straight days so could move on greater restrictions list soon.

Statewide is trending up to 7%, highest since 9/2 but well below the 14.6% average for July-August
Per an alternative metric of the 14-day moving average of COVID-19 hospitalizations as a share of total staffed beds per TSA with the threshold of 7%. If this metric is below 7% as of Friday each week to reduce uncertainty levels, then that TSA can open to 100% capacity for all businesses and no statewide mask mandate for maximum liberty.

As of 10/16, half of the 22 TSAs would fall under this metric so 77% of Texas could be 100% free as of 10/16, while those TSAs above this metric would have the same restrictions as the Governor's orders. This is a way to provide the needed next steps to fully opening Texas and reduce the uncertainty in the economy. 

Statewide is trending up a bit to 6.1%, highest since 9/18 but remains below 7% since 9/11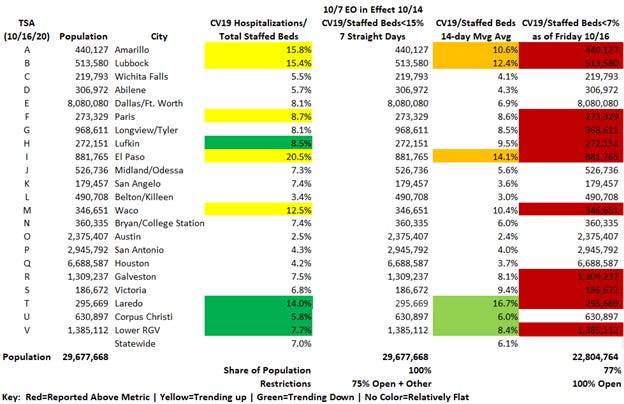 Many states are opening: Several states have fully opened, including Governor DeSantis fully opening Florida a couple of weeks ago. These extraordinary steps gets closer to opening America, which follows South Dakota's Governor Noem's decision to not lockdown throughout the COVID-19 situation. Of course, each state is different so what's best for one state may not be best for another. This is the beauty of federalism that allows for a laboratory of competition among the 50 states. Texas and America should be opening sooner rather than later as we learn to live with COVID-19 and government can target resources to vulnerable populations and specific areas in need. We discussed this and more on possible paths forward in Texas and beyond at a recent livestream event here. 
TPPF leading the way on opening Texas: Check out this press release by Executive Director Kevin Roberts with this key point: "While specific hot spots linger and Texas should deploy targeted resources to take care of vulnerable populations, the overwhelming majority of Texans are not facing an emergency and should be allowed to get back to work."
My latest commentaries and interviews on opening Texas and America:
TEXAS ECONOMIC AND FISCAL SITUATION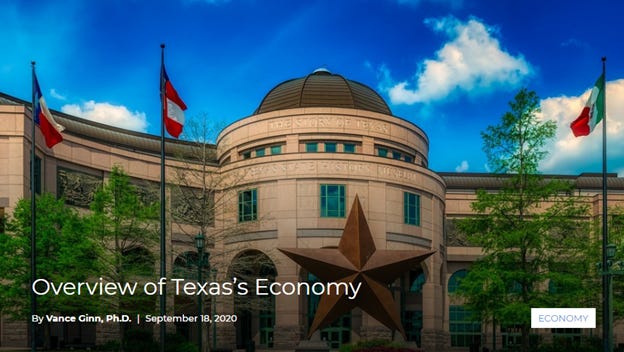 Overview of Texas's Economy: Texas's economy took a major blow in March from COVID-19 as it reduced Texans' activity across the state. Then lockdowns by state and local governments in response to the novel coronavirus further exacerbated the economic fallout. The economic data are clear that the labor market, economic outlook, and social mobility remain well below where it was in February. These weaknesses tell the story of how many Texas families and employers are struggling in their lives and livelihoods during this trying time without hope until government reopens the economy.

Texas has the highest number of Ch 11 bankruptcies that are at twice the pace of last year so far. And with Texas being the beacon of hope for liberty and prosperity for many years, the direction of the state needs to improve dramatically to not only continue that past framework of inclusive institutions where personal responsibility and free enterprise can thrive but also support increased entrepreneurship and job creation for many Texans struggling across the state.
Texas Economic Situation—September 2020: The Texas economy is recovering, but there's much room for improvement. The Texas Workforce Commission recently released the Texas jobs report for August 2020. While there have been improvements in the state's labor market, there are challenges to return to the robust situation of February 2020 before the COVID-19 pandemic and lockdowns by state and local governments. The U.S. Bureau of Economic Analysis recently reported that in Texas in the second quarter of 2020 on an annualized basis GDP growth declined by 29% and personal income increased by 34.1%.

Conservative Texas Budget: As the 2021 Texas legislative session quickly approaches, I want to share with you the budget information that the Texas Public Policy Foundation released this week.  Specifically, we released the 2022-23 Conservative Texas Budget that sets a maximum threshold of a 5% growth rate based on population growth plus inflation for 2022-23 initial appropriations of $246.8 billion, which was recently updated from $246.1 billion based on a revised calculation. We also had a livestream event where we laid out the details of the CTB and how the budget should really grow by less than 5% and even be reduced given the excess in government spending since the 2004-05 budget.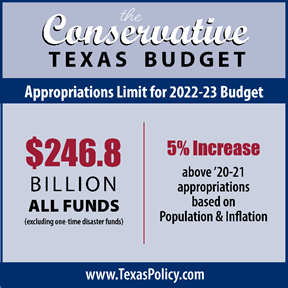 The Conservative Texas Budget project has been successful in the last three budget cycles as initial appropriations have been below population growth plus inflation, on average, and is even less than half the average growth rate over the prior 5 biennial budgets before the CTB was in place in 2015. This is an extraordinary feat and one that must be continued and improved upon over time.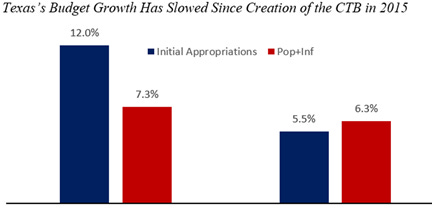 Testimony submitted to the Texas House Committee on Ways & Means on reducing/eliminating school property taxes in Texas:I provide options for how to substantially reduce the high property tax burden in Texas by limiting government spending with either a buydown of property taxes over time or a swap with sales taxes immediately so Texans have more opportunities to flourish. Here's more on this issue in a recent blog post that highlights the excessive property tax burden as noted in this Tax Foundation map.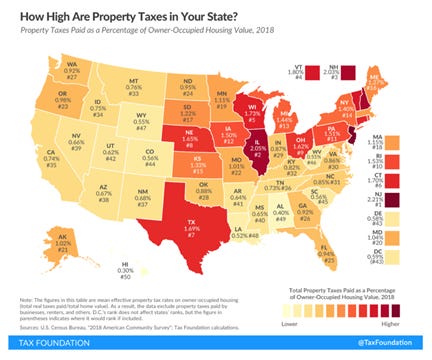 U.S. ECONOMIC AND FISCAL SITUATION

U.S. Economic Situation—October 2020:Many Americans are recovering after the economic destruction that started in March from the COVID-19 pandemic and lockdowns by state and local governments. While the economy and labor market continue to improve, the policy recommendations outlined here would help speed up that process so America can quickly return to the prosperous conditions of February.

Census Report:It shows that the U.S. reached a historical low in poverty and a historical high in real median household income. This is great news and shows the importance of a pro-growth institutional environment for an inclusive economy. Check out my thread on Twitter for more details.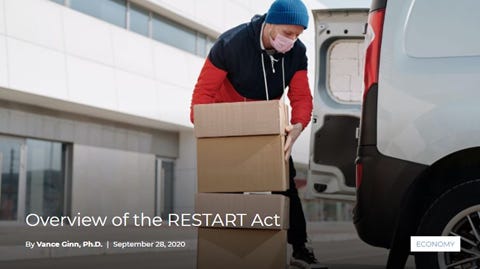 RESTART Act in Congress: In our analysis of the RESTART Act, we found that while it is a step in the right direction to helping Americans recover from the effects of COVID-19 and government lockdowns, the addition of a rehire provision to the legislation would go a long way towards helping to keep business operating and workers working while bringing unemployed people back to the dignity of work. The cost of this Act could be funded by reallocating unspent CARES Act dollars which prevents adding more to the national debt. Something along these lines should be considered in Congress instead of the other flawed policies that they've passed previously and are considering now.

My op-ed with economist Chuck Beauchamp highlights how Congress could help to recover Americans' livelihoods through TPPF's Recovery Act without authorizing more redistribution of taxpayer money.
I recently published a one-pager on the President's Executive Order that outlines the regulatory "Bill of Rights" that puts the burden of proof on the government where it should be and structurally changes enforcement of regulations. These could be substantially positive developments that transform the regulatory state in the U.S.
I've also been on television more recently discussing the uncertainty created by the payroll tax cut by the White House while Congress does nothing (watch here at 50 seconds), the cost of national debt must be considered whereby spending restraint is a necessity (watch here starts at 50 seconds), and the lack of a relief package so far (watch here starts at 40 seconds) that will actually help to get businesses operating and workers working, which the primary objective must be to reopen economies across the country.

ICYMI: My commentary on reasons to just say no to more state bailouts.  
Of course, I've been making these arguments and more at the Twitter handle @vanceginn, so check me out there as well.
If you have information that I should see, please send my way. Contact me any time. Also, let me know if you'd like me to take you off this list. I hope this newsletter is marginally beneficial to you and will hopefully help us to find opportunities to let people prosper.
Blessings to you and yours,
Vance
Vance Ginn, Ph.D. | www.vanceginn.com | #LetPeopleProsper