Discover more from Let People Prosper
Vance Ginn, Ph.D., writes the Let People Prosper newsletter with key insights into free-market ideas that let people prosper and podcast episodes from his work in academia, public policy, and the White House. He resides with his family near Austin, Texas.
4. Nothing Is Free
Costs of lockdowns and poor policies soar.
Hello Friends!
Thank you for reading this latest edition of my Let People Prosper newsletter. Given this is the third entry of the new newsletter, I'd like to again welcome many new subscribers. Thank you!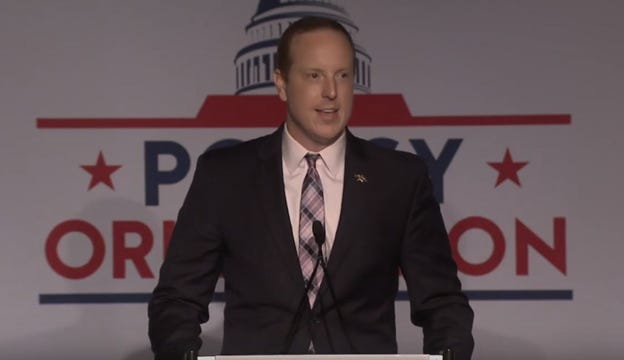 Please keep sharing this with your friends and family who may be interested in our fun but hopefully educational chats. And you can share with them more info about me on my personal website or where I work at the Texas Public Policy Foundation. Also, if you like this information and would like daily updates from TPPF scholars on more issues, sign-up for TPPF's The Cannon newsletter.
Are you ready? That reminds me of one of the songs from my favorite band growing up, Korn. Did I mention that I'm a drummer who played for a hard rock band for a few years in Houston? I probably haven't yet. When you have time, check out my YouTube video where I tell my story of failures and how I got into economics to help people prosper that has supported much success over time.
OPEN TEXAS AND AMERICA

Latest on Texas Opening: For a more thorough overview of the COVID-19 situation and opening efforts in Texas, see my previous post: History Helps Humanity.
As of October 26, it seems that Governor Greg Abbott has changed his metric's denominator to "total hospital capacity" defined as "the number of staffed available and occupied beds. This includes pediatric and adult hospital patients, general and ICU beds, inpatient and outpatient beds, emergency department beds, and telemetry and psychiatric beds."
I'm not sure when the change was made but I noticed it today. The previous metric that I was using was to match his was COVID-19 hospitalizations as a share of total staffed inpatient beds but now it is as a share of total hospital capacity (63,515), which the capacity is slightly higher than staffed inpatient beds (59,470) across the state. This may be a better metric as Governor Abbott sends additional resources to areas with higher hospitalization rates (El Paso, Amarillo, and Lubbock so far, which are all now on the list with further restrictions).
Here's my Twitter thread (please retweet) on this latest news about the COVID-19 situation in Texas.
Governor Abbott Metric Overview: Per his metric of CV19 hospitalizations/total hospital capacity for seven consecutive days, TSAs below 15% can have most businesses expand to 75% capacity, keep state mask mandate, and bars (and others) open to 50% capacity with the approval of the county's judge. TSA A (Amarillo), TSA B (Lubbock), and I (El Paso) are reported on the list of further restrictions, so 94% of Texans are at 75% capacity + other restrictions.
TSA I (El Paso)>15% for 15 straight days & trending up to highest since COVID

TSA A (Amarillo)>15% for 9 straight days & trending up to highest since COVID

TSA B (Lubbock) > 15% for 8 straight days and trending up to highest since COVID

TSA T (Laredo) is next highest at 12.5% but leveling off

Statewide is trending up to 8.3%, highest since 8/24 but well below the 13.9% average for July to August
Alternative Metric Overview: Per the alternative metric of the 14-day moving average of CV19 hospitalizations/total hospital capacity determined each Friday, 13 TSAs would be above 7% so they could be at 75% capacity, while the other 9 TSAs with 47% of Texans would be 100% free (100% capacity, no mask mandate, bars open).
TSAs A, B, and I continue to trend up
TSA S (Victoria) fell below 7% and moved off the more restricted list

TSA H (Lufkin) and TSA S (Victoria) are trending down and could fall below 7% soon

Statewide is trending up to 7.1%, highest since 9/9 but remains below the 14.7% average for July-August
Hospital Data Statewide:
Available beds as a share of staffed inpatient beds up to 22.8%, highest since 10/6

COVID-19 hospitalizations up 22.2% (to 5,278) over last 7 days, up 36.4% over last 14 days

Available beds up 2.1% (to 13,570) over last 7 days, up .4% over last 14 days

Staffed inpatient beds up 1.7% (to 59,470), down 1.0% over last 14 days

With available beds as a share of staffed inpatient beds rising while COVID-19 hospitalizations are rising, this indicates there are fewer hospitalizations due to other causes (something to watch)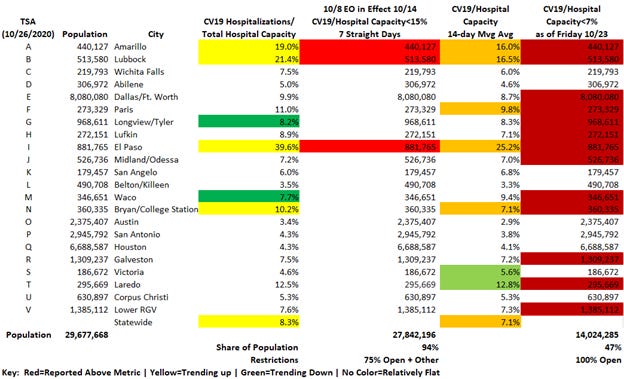 Also, something interesting to consider about lockdowns and the economic situation across the states:
TEXAS ECONOMIC AND FISCAL SITUATION

It's important to discuss what happened during last week's presidential debate. I would have liked to hear more about how each candidate would deal with the fiscal insanity of running massive deficits from excessive government spending. We need a Responsible American Budget, which I'll be writing more about soon. With regards to Texas, I think the key thing that was mentioned was when VP Joe Biden said that he is in favor of transitioning from oil and gas. This made the rounds on social media as the Texas Comptroller Glen Hegar tweeted an important about how this would hurt the Texas economy, influence the state budget that funds education, and more:
Part of the path advocated by progressives to transition away from oil and gas and to renewable sources of energy is to enact a new carbon tax, which they've cleverly changed to a "carbon price" because a carbon tax polls poorly. Check out my thread where I take this view to school on how it would be destructive for the economy as it distorts economic activity and socially engineers society while doing little to improve the environment.
Here's another good tweet in that thread.
Ultimately, transitioning away from oil and gas, which natural gas use has been contributing to an improvement in the environment for years and harmful pollutants continue to decline (see figure below from EPA), would be devastating to Texas and America.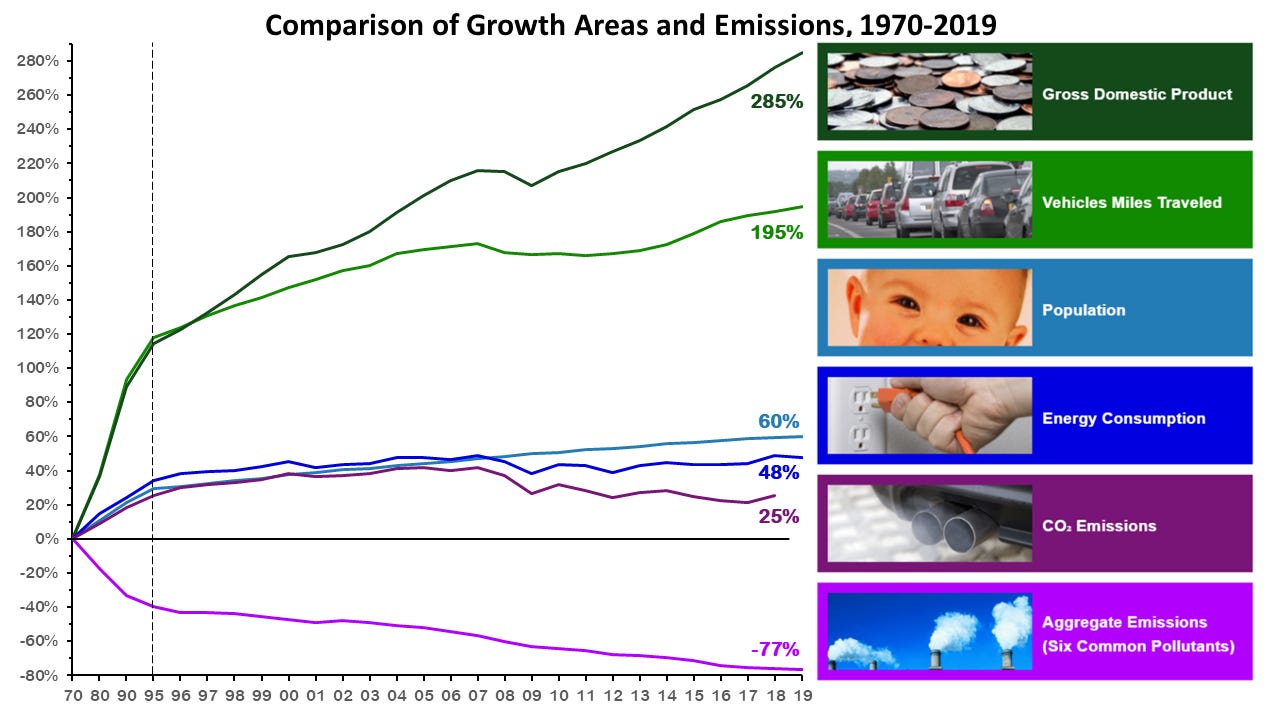 Regarding the fiscal situation in Texas, check these out:
U.S. ECONOMIC AND FISCAL SITUATION

I would like to highlight how the U.S. needs to return to the inclusive institutional framework that supported economic prosperity until the COVID-19- induced recession. Without getting political about it, I think it is important to look at the evidence of the last three years, excluding the unprecedented situation, which is full of government failures. Here are a few tweets and threads that tell the story.
One way to not return to the stronger institutional framework with pro-growth policies supporting prosperity is to raise the federal (or any) minimum wage as noted here:
And I'll leave you with some optimistic news, given I'm an optimist at heart:
I hope that this information provides insights that reveal how nothing is free. Most of you have heard me say this often as there are always tradeoffs in a world of scarcity, whether those costs are explicit or implicit, such as opportunity costs.
If you have any information that I should see, please send my way. Contact me at any time. Also, let me know if you'd like me to take you off this list. I hope this newsletter is marginally beneficial to you and will hopefully help us to find opportunities to let people prosper.
Have a blessed week.
Vance Ginn, Ph.D. | www.vanceginn.com | #LetPeopleProsper